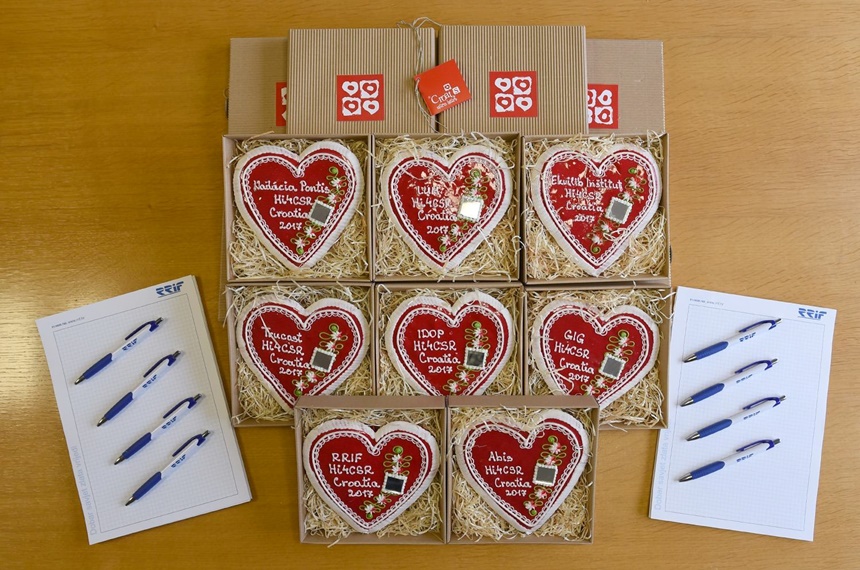 PARTNERS
Through strategic partnership in the project Hi4CSR, all project partners, decision makers, enterprise representatives, participants and participants of lectures and seminars will be given a chance to improve their key competences, develop specific and identifiable skills that ensure greater employability and easier mobility, which will result with a sustainable working community and long-term positive impact on their organizations and society at large. 
This strategic partnership is presented through a proud consortium established of eight partners - every partner enjoys the reputation in developing and participating in CSR education and sharing good practices at the EU level.
Main goal of this project is to leverage the current CSR education in their countries by connecting organizations who will not be able to come together easily. Equal involvement of EU universities, consulting companies, CSR organizations and decision makers from different countries were chosen to provide a mixture of different European knowledge and experience in order to strategically connect more easily. One of the objectives of the project is to produce the national CSR Legislative education program for adults, decision makers and enterprises based on the best examples of the EU practices.
How were partners chosen?
All the partners are selected on the basis of complementarity, their competences, previous accomplishments and prior joint cooperation at conferences or research work. All partners are leaders in their field, with enviable previous projects and achievements, with continuous everyday work in developing and participating in CSR education and sharing CSR practice at the EU level. Additional criteria for the selection of partners applies to their social and business impact and relevance in Croatia and EU. All partners are professionals in CSR with significant impact to enterprises and decision makers in their countries, which results with strong influence on the society at large.
All project partners will be in charge of a certain field in which they are specialized with significant amount of practical and theoretical knowledge. In order to provide the appropriate mix of complementarity, contribution of consortium partners will produce relevant educational project aimed at creating professionals who act directly on the transformation of business and society. 
In the project Hi4CSR European instrument Europass will be used for recognition of learning outcomes of participants in learning activities. Skills and competences that will be acquired during the Erasmus+ program and clearly put in the Europass document are the following:
During the project, project partners will:
1. Learn how CSR directives are implemented and harmonized in different EU countries and national legal frameworks in order to improve their services and knowledge, as well as increase their competitive advantage at open EU market of labor, goods and services.
2. Develop their CSR skills and knowledge needed in sustainable communities.
3. Learn how to share their know-how and services to organizations in EU member states.
4. Learn how to create a CSR guide for enterprises, adults and decision makers in order to increase adult education and grow awareness of CSR skills. This will be the first education material of this kind which systematically presents CSR practices end legislative among EU countries.
5. Through strategic partnership contribute to the development of CSR programs, policies and guides.
6. Establish the permanent network between each other, enterprises, society and decision makers.
7. Learn how completely understand legal framework and CSR objectives in general, in order to ensure exchange, learning and designing educational tools for implementation of CSR objectives in businesses and society which have to be harmonized with national laws.
RRIF
ABIS - THE ACADEMY OF BUSINESS IN SOCIETY
The Croatian Institute for Corporate Social Responsibility
EKVILIB INSTITUT ZAVOD
Bridging to the Future
Nadácia Pontis
Global Impact Grid GbR
LUM JEAN MONNET