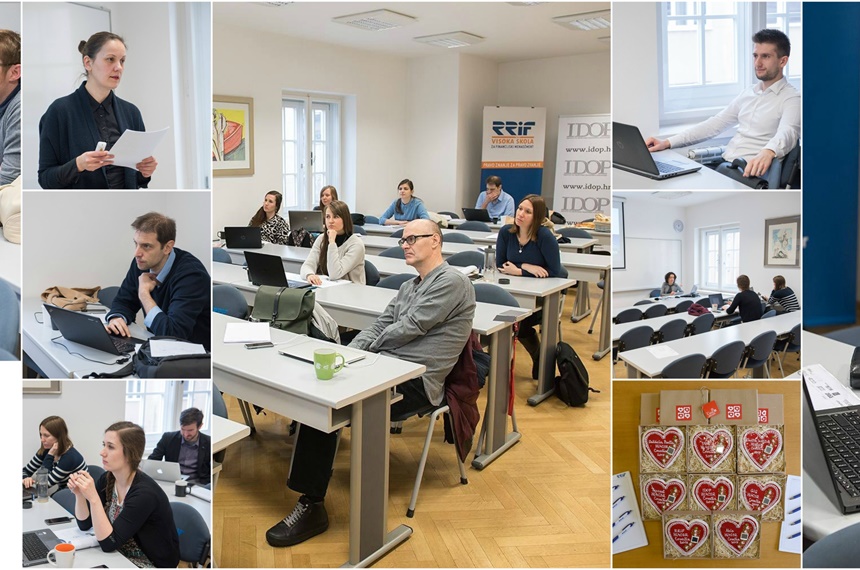 The first learning activity took place in Zagreb, Croatia!
From  January 30th until February 3rd 2017 in RRiF College for Financial Management in Zagreb, the first learning activity within Hi4CSR finally took place!
Participants of the learning activity were members of the consortium consisted of eight renowed European organizations in the field of CSR: RRiF-plus d.o.o. (coordinator, Croatia), The Croatian Institute for CSR (Croatia), Abis – The Academy of Business in Society (Belgium), Ekvilib Inštitut (Slovenia), Global Impact Grid (Germany), LUM University (Italy), Pontis Foundation (Slovakia) and Trucost (United Kingdom),
Considering the fact that the primary goal of the project is adult education and the exchange of best practices between project partners when it comes to the harmonization and implementation of European directives in the area of corporate social responsibility to national legal frameworks, a five-day activity was designed in a way that every day was dedicated to a specific area.
PROJECT TOPICS
The topic of the first day, which was also the introduction, were the issues related to non-financial reporting and the transposition of the Directive 2014/95/EC into national laws. The second day was marked with a discussion and an interactive workshop on the issue of eco-labels in Member States. In order to find out out first-handed experiences, professor Angelo Russo from University LUM in Italy connected via Skype, as well as Massimo Labruna, Italian entrepreneur in the field of green technology. The third day was dedicated to the employment of persons with disabilities. A special guest was Slovenian company representative, Polona Ajdnik Benic from the Slovenian Mercator IP.
On the fourth day the topic was the legislative framework related to the food donation systems in Member States. Special guests of the fourth day were Mrs. Natalija Knezevic from Croatia's Ministry of Agriculture and Mrs. Kristina Klaric Rubcic from an enterprise Dukat d.d. Both guests presented their experiences from the perspective of a legislators and a business, and thus greatly facilitated the work on the CSR Guide.
The last topic was dedicated to the processing of used materials. Thanks to the guests from the Croatia's Ministry of Environment, Sanja Radovic Josic, and Mrs. Valentina Kelbar of the Unija Nova d.o.o, the project consortium was provided by expertise and complete overview of the Croatian national system when it comes to processing of use materials.
Main result of the project will be a unique CSR Guide when it comes to EU legislation in CSR, as well as the educative video material.

FUTURE ACTIVITIES
The following learning activity will take place in Berlin, from May 15th to May 19th 2017.
If you have any questions for the consortium, feel free to write to us at info@hi4csr.com.