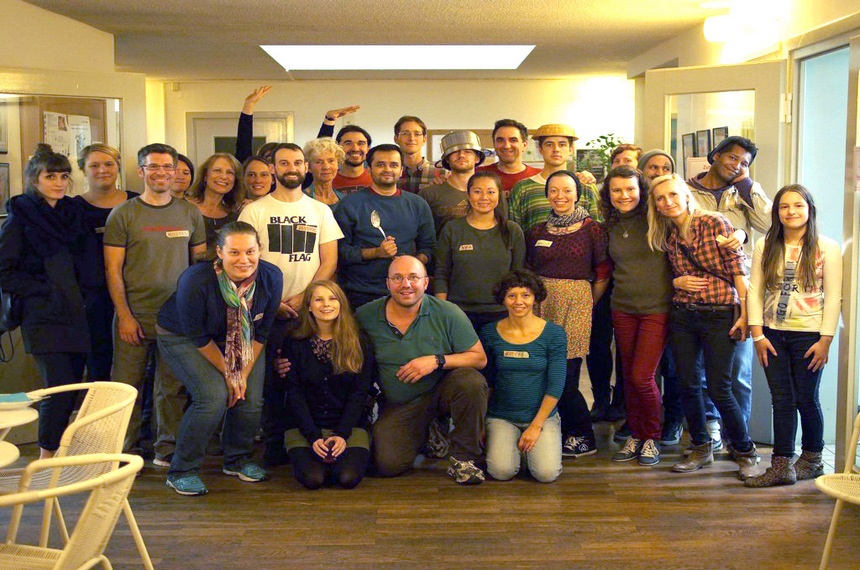 Tackling food waste and social exclusion: Homeless Veggie Dinner in Berlin
During the 2nd learning activity in the scope of Erasmus+ project Hi4CSR which took place in Berlin, project partners were presented with a Berlin-based initiative Homeless Veggie Dinner. Dario Adamic, project's initiator, shared with the Hi4CSR consortium the story behind the project, which ultimately aims to address two very different issues - tackling food waste and social exclusion of homeless people in Berlin.
Homelessness is an issue which many large cities unfortunately face. Besides the economic effects of homelessness, there is of course a number of social ones. Homeless people don't have many contacts with people of different socio-economic classes or cultural backgrounds, their contacts are usually limited to other homeless people and social workers.
The idea of the project is fairly simple: once a month, homeless and poor people are welcome to a three-course-meal event in Berlin, organized by a group of international volunteers. Volunteers prepare, cook and serve the food for roughly 250 people at a time. Guests are seated and three courses of food are brought to them, which is a big difference in comparison with more "charity oriented" soup kitchens.
Dinner guests are not just homeless people, though. The dinner is open to everyone willing to share a meal or a story with the underprivileged members of society and is offered free of charge. Whoever wishes to support the idea, can leave a free donation for the meal, but no one is asked to. The event often includes entertainment in the form of a music performance, a game, a play or even a movie screening.
The food that is served would otherwise be thrown away and is donated by large retailers who are unable to sell it, restaurants and occasionally other food-sharing networks. When the volunteer team gets the information about the ingredients, they decide on the menu based on what is available. This means that the menus are always different, and a vegan option is always available. The venue and all utility costs are provided by the city of Berlin.
For people interested in participating, there is a Facebook page available with all relevant information regarding upcoming events. If you are in Berlin and want to join the dinner, follow their Facebook page: https://www.facebook.com/homelessveggiedinner/
For more information, please visit:
http://www.globalimpactgrid.com/sitting-at-the-same-dinner-table-with-people-from-other-social-classes-creates-social-contact-that-otherwise-wouldnt-happen-on-the-street/
http://lolamag.de/feature/homeless-veggie-dinners/
Author: Petra Hartman (Ekvilib Institute)